Warwickshire backed up their opening weekend victory at Yorkshire, with a stunning 25-11 win over visitors Essex, to close the gap on leaders Lancashire in the Darts Corner Elite Premiership (writes Morgan Barrell).
Jamie Hughes topped the Premiership Men's A averages over the weekend, and was backed up by Jamie Atkins, Prakash Jiwa, Tammy Montgomery and Sue Gulliver as the Coventry based side claimed victory, with leaders Lancashire visiting Northamptonshire and winning 24-12 as Kevin Garcia picked up the Man of the Match award for the Red Rose county.
London, Cornwall and Lincolnshire are all hot on their heals after solid performances in match two, with London narrowly defeating Devon at home, while Cornwall and Lincolnshire played out a drawn match at the Mount Charles Social Club, as Rob Ruberry and Antony Allen stood out for their respective teams.
Hampshire shook off their opening match loss by defeating Glamorgan in Merthyr. Star man Chas Barstow and Scott Walters both hit 30 averages to claim points for the men while Jane Monaghan won the Ladies A Player of the Match award as the South Coast side triumphed 21-15.
Another high quality contest served up a draw in Cheshire, as Yorkshire had to rely on John Walton, Keith Flint, Peter Jacques and Dean Norman to win the final four matches on day 2 to snatch a draw. Talented youngster Amy Evans, Luke Littler and Brad Brooks delivered valuable points for the home side before the comeback was achieved by the visitors.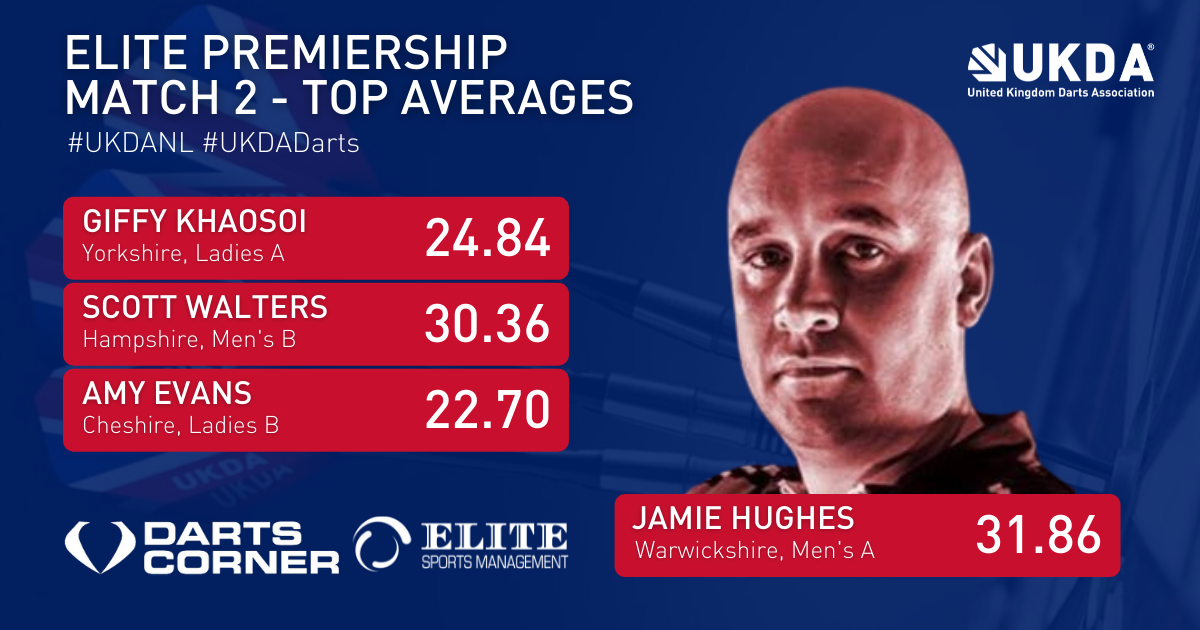 Dorset produced a stunning comeback from an overnight 13-5 deficit in Poole, to defeat Gwent 20-16 with the Cathy Campbell starting the momentum shift and Mark Grimes, Tommy Morris and Ricky King leading the side home in an incredible turnaround. The visitors Dewi Beynon and Rachel Parnell picked up the Top Averages in the AON Contracts Championship across the weekend.
Sussex lead the way at the top of the table, after a convincing victory at Oxfordshire with the very talented duo of Joe Davis and Cavan Phillips showing their capabilities as the visitors lead Gwent by 2 points in the table.
Cambridgeshire played their first game of the campaign, and went down to a 24-12 defeat at Kent with Dave Salter and Julie Handley standing out for the victors, while Berkshire narrowly defeat Hertfordshire at home to claim a vital 3 bonus points. Some incredible darts were thrown in this contest with Dan Read playing a vital role in taking his side over the line, despite Jarrod Cole and Louise Pearson picking up the Top Averages in the Men's and Ladies A in the division for the Welwyn Garden City team.
Both Staffordshire and the West Midlands delivered fine performances against Buckinghamshire and Humberside respectively. John Burgess, Kev Johnson shined for Staffordshire in a 24-12 win, while the West Midlands had Michael Baker on top form in victory.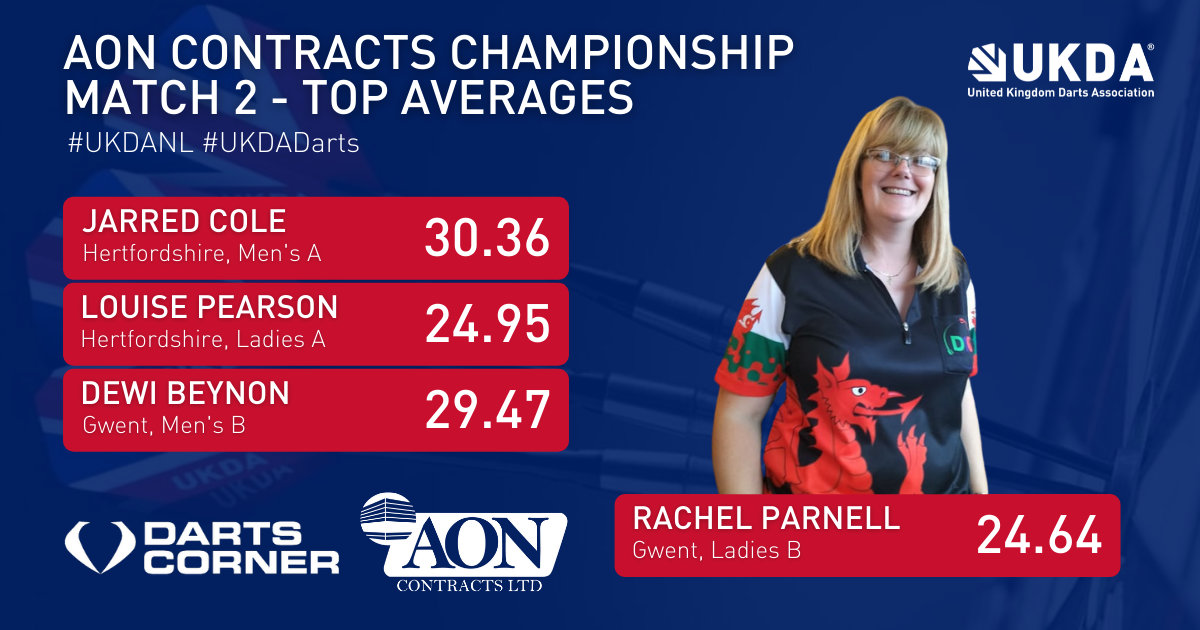 Cleveland lead the way in L-Style Division One, following a comfortable win over Derbyshire, with the Men's B overcoming their opponents 10-2. Claire Stamper's North East outfit had Karl Coleman, Gary Hayes and Zoe Holland all on fine form, as the leaders open up a nine point gap on Suffolk in second place.
The East Anglian team drew an entertaining contest with Somerset, with Andrew Gilding and Jo Locke continued their fine start to the season, and Justin Hood being the stand out performer for the visitors.
Merseyside overcame Clwyd by the narrowest of margins to move ahead of their opponents in the league table. Welsh international Andy Alker had another solid outing, with the veteran Terry Roach and Jason Chisnall picking up the valuable points to ensure the visitors made the short trip home with a win.
Zoe Jones' Worcestershire side welcomed Gwynedd to Redditch, as the home side turned around a deficit on the Sunday to ensure a drawn match with the talented Jenny Jones showing her class for the home team.
The fixture between Nottinghamshire and Surrey will be played on the weekend of the 9th & 10th October, with the monthly awards and top averages from this division and nationally being confirmed at the completion of this match.
Sam Cankett took his West of England side to victory over Cumbria, as the home side recovered from 17-13 down to secure all three bonus points in the final match of the weekend and move to the top of the table. Chairman Mike Norton, Jon Worsley, Lee Harris, Matt Jackson and Wayne Allen won the crucial matches for the home team, who travel North East to face second place County Durham in Match 3. Cumbria's Dave Carr produced a fine performance for his side.
Paul Dinning, Mark Messer and Linda Hindmarsh saw Robert Douthwaite's side to a narrow triumph at Leicestershire ahead of a mouth watering contest against the West of England next up.
Montgomery & Radnor's woes continued at the hands of Norfolk, who ran out 28-8 victors in their first fixture of the campaign, while Joshua Burksfield, Louise Grannell and Leanne Palmer took Middlesex to victory at Bedfordshire.
The final match in Top Gun Promotions Division Two saw Tyne & Wear pick up the win 19-17, after turning around an early 6-0 deficit against Wiltshire, with Lee Evans on form once again and Sue Lane for the Swindon based outfit.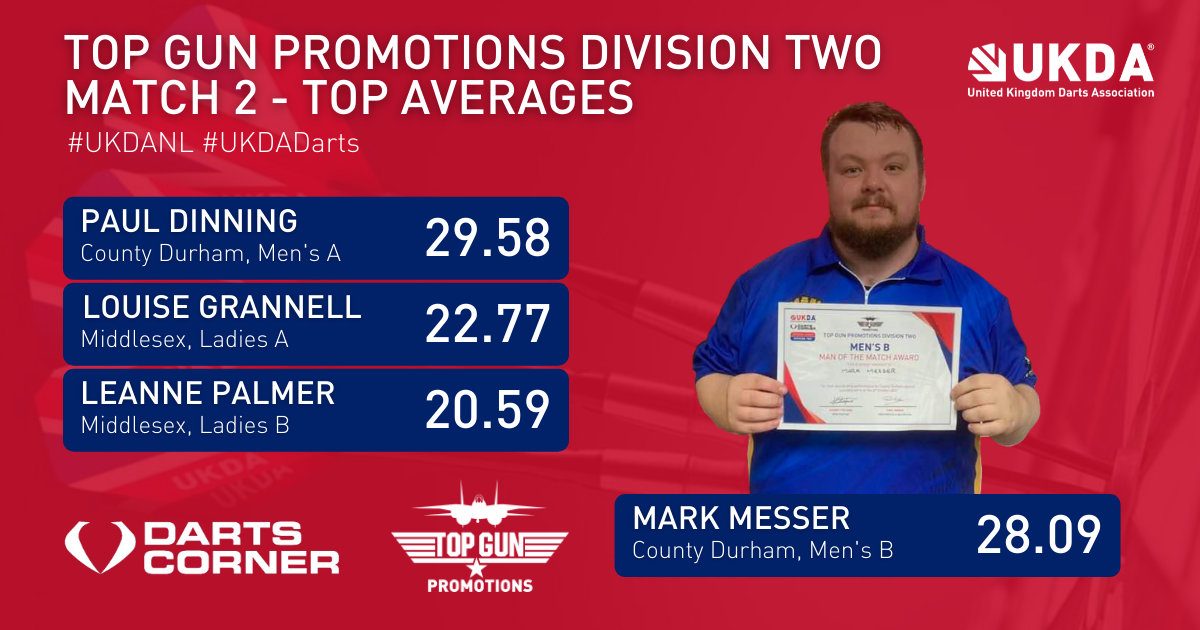 Newly formed The Black Country and Northumberland are joint top of Division Three, only seperated by leg difference. The Black Country won a tight tussle against neighbours Shropshire with Paul Wells and Heather Wright seeing the side home despite a stirling performances from Martin East and Martin Riggs for the home side.
Northumberland had their Ladies B to thank for the solid start they gave the home side against Salopian as the remaining matches appeared evenly matched, to pick up a 21-15 win as they travel South for a top of the table encounter in Match 3.
A Kieran Smith inspired Gloucestershire won their first game of the season, as they saw off Breconshire 22-14 at Wotton Hall, to move into third place, with a trip to the Isle of Wight next up for James Hurrell's side. Ralph Heaven-Richards stood out for the visitors, and had good victories for Natalie Evans and Jan Layton as well in defeat.
Jason Davies and Llew Bevan took Pembrokeshire to a win in Whitland over the Isle of Wight as they played their first game of the season.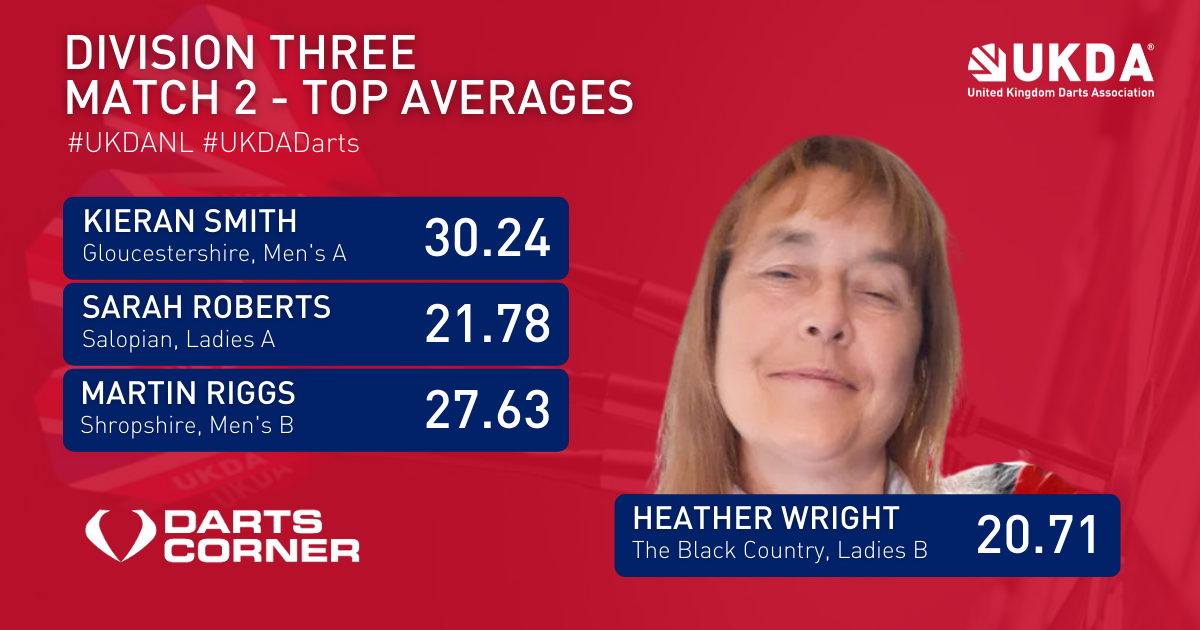 Elite Premiership Results:
Cheshire 18-18 Yorkshire, Cornwall 18-18 Lincolnshire, Glamorgan 15-24 Hampshire, London 19-17 Devon, Northampton 12-24 Lancashire, Warwickshire 25-13 Essex.
AON Contracts Championship Results:
Berkshire 19-17 Hertfordshire, Dorset 20-16 Gwent, Kent 24-12 Cambridgeshire, Oxfordshire 14-22 Sussex, Staffordshire 24-12 Buckinghamshire, West Midlands 21-15 Humberside.
L-Style Division One Results:
Cleveland 22-14 Derbyshire, Clwyd 17-21 Merseyside, Suffolk 18-18 Somerset, Worcestershire 18-18 Gwynedd.
Top Gun Promotions Division Two Results:
Bedfordshire 15-21 Middlesex, Leicestershire 17-19 County Durham, Norfolk 28-8 Montgomery & Radnor, Tyne & Wear 19-17 Wiltshire, West of England 19-17 Cumbria.
Division Three Results:
Gloucestershire 22-14 Breconshire, Northumberland 21-15 Salopian, Pembrokeshire 26-10 Isle of Wight, Shropshire 16-20 The Black Country.