A historic weekend of darts saw SALOPIAN emerge victorious over SHROPSHIRE 19 V 17 in Salopian's never to be forgotten first county darts match (writes Che Kerin). 
Bagley Club, Shrewsbury provided a superb, atmospheric venue with Shrewsbury mayor Julian Dean opening proceedings prior to the draw & it wasn't long before Salopian celebrated there first win of the weekend when Cheryl Owen (12.97) won the first Ladies B match 3-0.  That would be as good as it got for Salopian Ladies B as Shropshire hit back in style winning the remaining five games with Shropshire's Sophie Fawcett (17.71) putting Shropshire in command 5 v 1 overall taking the final ladies match.
Ladies B Result  :  Salopian  1 v 5  Shropshire
Salopian B Lady of the Match =  Cheryl Owen (12.97)
---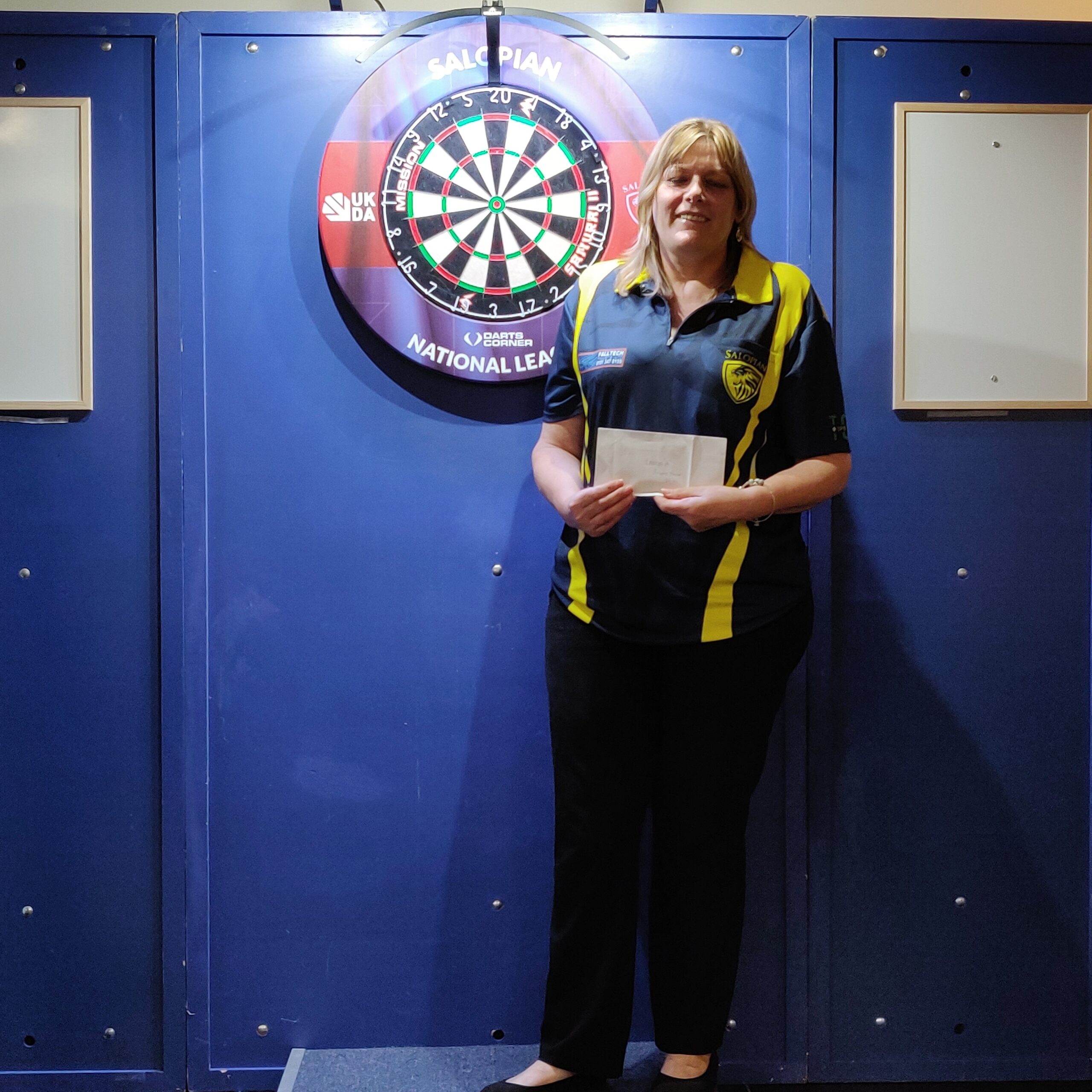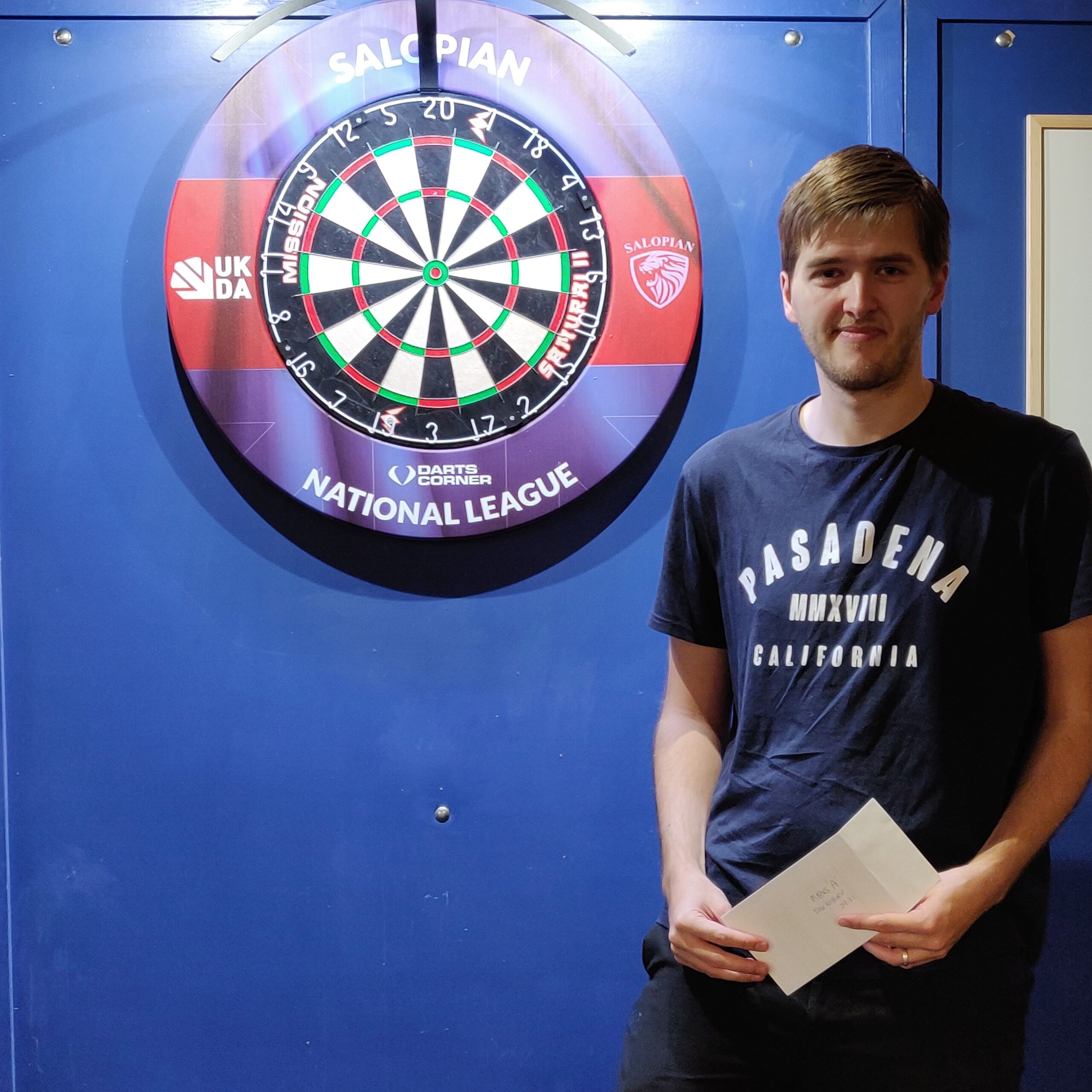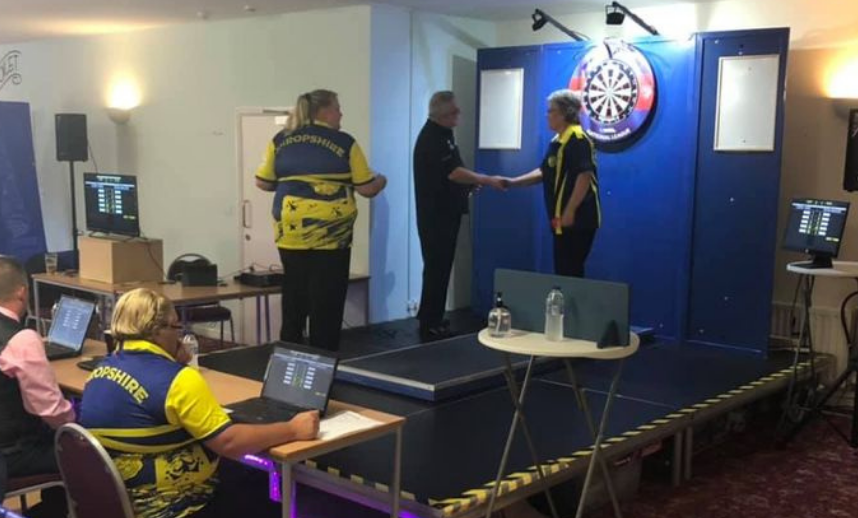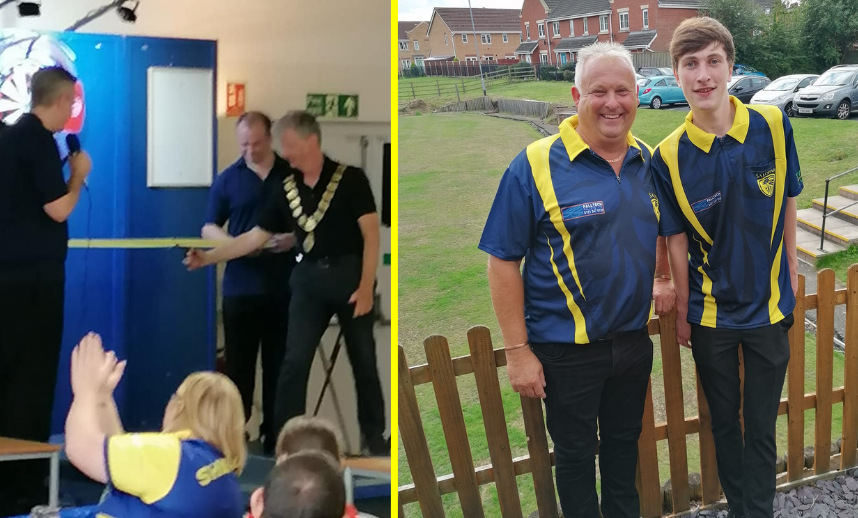 ---
It was essential that Salopian made a strong start to the Men's B matches & James Mansell (19.84) & Glyn Thomas (23.62) duly obliged with steady wins to half the deficit. Shropshire countered with back to back wins through Dave Bayton (22.77) & Andy Vellender (25.57) who beat Dave Phillips (23.18) in five leg cracker that saw Dave pitch 11 ton plus scores & have six match darts.  Mark Jones (24.65) replied for Salopian who then won their fourth men's game through Ben Morgan in a last leg decider (20.94). Shropshire hit back again through John Simms (24.53) before Salopian regained control through victories for Paul Ashworth (22.21) & Paul Evans (20.45) to lead 6 v 3 in the Men's.  Ben Johnson (23.86) sprinted to success for Shropshire in the next before James Carter (19.74) included a 118 checkout to give Salopian the magic seventh win to take the Men's match although Dave Robbins took the final game of the day, again in the fifth leg to ensure that Shropshire held a 10  v 8 overall lead at the end of day one.
Men's B Result   :  Salopian  7 v 5  Shropshire
Salopian B Man of the Match      =          Mark Jones  (24.65)
---
A five star salvo by Salopian ladies A changed the whole dynamics of the match to give Salopian's the overall lead that they ultimately wouldn't relinquish.  Alison Gallagher (14.59) started the winning sequence, backed up by Sue Lane (14.55) before Evonne Taylor (23.34) took centre stage defeating Becky Harris (19.33) who had a 126 checkout 3-1.  Steph Clarke (22.63) fired a 16 dart leg which included a maximum as she came from two down against Marie Riggs (22.76) to triumph before Sarah Roberts (19.78 inc. 180) completed the rout for Salopian ladies.  The final ladies match went the way of Shropshire through Jenna Ball (17.69) to cut Salopian's lead to 13 v 11 overall.
Ladies A Result  :  Salopian 5 v 1  Shropshire
Salopian A Lady of the match     =          Evonne Taylor  (23.34)
---
Once again, the home side made a strong start to the Men's A with Salopian taking the first three matches whilst conceding just four legs, all the more impressive as the format increased to the best of Seven.  Dan Dean (26.27) & Jon Mansell (21.35) with the early wins before Dan Astbury (29.31) fired a 12 dart leg which included a maximum in a high quality game of darts against Paul Bromley (24.43) which Dan won 4-1.  Paul Rowley (26.98) raced into a 3-0 against Shropshire's Chris Fox (26.25) who produced a magnificent comeback taking the remaining four legs closing out the match finishing 84 on the bull to give Shropshire A there first Men's A point.  Crucially Salopian returned to winning ways taking the next two games through Scott Dockerty (26.74) & Ash Hilditch (24.88) who both hit maximums to put Salopian on the cusp of overall victory.  At this point Shropshire rallied with Connor Pickett (27.08) impressing before Reece Cook Lucas (23.03) & Sam Aitkens (23.89) adding further wins for Shropshire to leave the overall score poised at 18 v 15 in favor of Salopian.
That elusive 19th point came Salopian way in the very next game through Rob Paine (23.76) who was pushed all the way by Andi Chatter(24.51) who hit back to back maximums in the final leg before Paine sealed overall victory taking out 90 on the bull.  The remaining  two games went the way of Shropshire who had the consolation of securing a six each draw in the Men's A, although a special mention must go to the final of the game of the day between Salopian Kacey Jones (28.13 Inc. 180) & Richard Parker (28.26).  All games under 21 darts, 27 tons scored, decided in the final leg. A fitting way to end a memorable match played in great spirit between both teams.
Men's A Result  :  Salopian 6 v 6  Shropshire
Salopian A Man of the Match     =          Daniel Astbury  (29.31)
---
Overall Score     :           Salopian  19  v  17  Shropshire