The United Kingdom Darts Association (UKDA) are delighted to announce they have agreed a long-term sponsorship deal with Darts Corner the World's largest Darts retailer.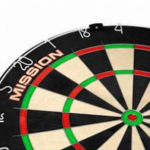 As UKDA Chairman Johnny Stefano explained "It has been six months since the UKDA proposal to encourage County teams into the National League was released and we have been working tirelessly since that moment to find a title sponsor for the Association and we are delighted that objective has now been achieved."
"The level of support, help and advice we received from the outset by Darts Corner, their CEO Wayne Taylor and his team has led us to this historical moment.  Considering those discussions started when we didn't even have any teams signed up, all negotiations since have taken place during the toughest period imaginable, not just for grass-roots dart players specifically but the country generally, which makes the agreement even more incredible.
The UKDA now have the support we sought and when we all get back to playing again, hopefully in September as scheduled, the commitment Darts Corner has provided will ensure we can now provide an exciting future to all those players who have entrusted us with task of moving the National and Super League systems forward.
Thankfully we have managed to acquire investment from numerous sources and in truth, sources that wouldn't have previously been interested in doing so.  Though work still goes on within the UKDA Management Team to ensure all commercial opportunities are pursued, the backing of Darts Corner, the endorsement of what we want to achieve, the benefits that our new Sponsors will provide will filter back into the National and Super League areas of the grassroots game.
To all the players competing within them, we are both grateful and excited to see what together we will be able to achieve for the players in the next few years."
Sentiments echoed by Darts Corner CEO Wayne Taylor
"I love darts and everything to do with darts.  It's been my passion for nearly 30 years and after all the recent upheaval, all the uncertainty that millions have suffered and unfortunately are still facing, l felt now was the perfect time to give something back, to demonstrate both support and thanks to the tens of thousands of darts enthusiasts that over the last 15 years have supported Darts Corner.  With this agreement, I believe that's exactly what we will be able to achieve and I am genuinely thrilled, especially as the UKDA has chosen us as their partner when there were so many other options open to them."