Worcestershire Warriors defeat Welsh Champions as ladies gain their biggest win of the season (writes Matt Jones).
The recently crowned Welsh Inter-county darts champions Clwyd hosted Worcestershire this weekend as each team battled for points across 36 games.
The playing field was set with the lions taking on the dragons as the ladies B players took centre stage. As everyone knows across the darting family many teams have lost players and Worcestershire know this more than most. The Ladies have lost regular A and B players but with this loss they have gained new and exciting players, the old guard in Kim Jones was unlucky to start the day off with a win losing out narrowly to Bethan Jones 3 2, both with a 15.99 average. Liz Jones (15.49) carried on the winning ways beating Worcesters Lyn Dunkley 3 nil. Next up saw the return of a Worcestershire legend; Korrin Beddow, she put the first point on the board for the away team with a 3-2 win, securing a 17.54 in the process. Sophie Hadley who is consistently hitting 17+ averages failed to cross over the line first but I'm sure it's only a matter of time. However, Lynne Arnold (16.29) knows where the finishing line is and secured a 3 2 win. Vicky Pickford who is becoming a staple in the B team also won 3 2 with a 17.31 over Clwyds Eluned Wright.
With the score standing at 3 3 all was still to play for on the first day of tungsten action. 12 men from each team were ready for battle and it was Worcestershire who came flying out the traps with Phil Rooney(24.80), Andy Pullen(26.96) and Phil Randell(22.78) all securing wins against their opposition. Worcester's Secretary Mark Jones missed 6 match darts to strengthen the lead losing out 3 2. It wasn't to be for Ian Oliver, Alan Futcher or Paul Wallace who all lost out to the dragons. Between these losses was also a heavy defeat to Worcestershires Chris Gurney who lost out 3 nil to a very inform James Beeton who registered a remarkable 31.31 average – remember that average its important later on – Clwyd had took a 2 game advantage with 4 games left to play. Andy Murdock battled for a 3 2 win closing the gap to one but it was Clwyd who slayed the next two lions in Dan Collins and Tom Clarke with victories going to Shane Hayward and Phil Wilcock. Last on for Worcester was Nick Evans who looked as if he'd rolled over for a tummy rub at 2 nil down but he was soon fired up and steamrolled the next 3 legs with a 25.38 average, leaving the score at 10 – 8 to Clwyd as night drew in.
This was the third consecutive game that Worcestershire entered into day 2 with a deficit to turn around but they have shown they are capable when overcoming a 6 pt gap the previous game.
The Ladies A team were ready for a fight and the draw turned out perfectly for them. With Jenny Jones playing in her favoured starting position of 1 she drew out her swords and inflicted the first of many slays of the Welsh Dragoness' with a 3 1 win and a 19.30. Jenny Shail (18.99) recorded the same scoreline. Jackie Mackenzie (15.51) won 3-2 as did Mandy Morgan who holds the most experince within the A team. Claire 'finger lickin' Dicken (16.63) won 3 1 with an impressive 121 finish on the bull; she needed to against the ever present Paula Collins. Team Captain Zoe Jones rounded off the Ladies games of the weekend with a match award winning 21.19 average. This ladies A team are something special.
Worcestershire had taken the lead 14 – 10 the Men's A needed to ensure the advantage was maintained but Clwyd weren't champions for no reason and it showed as they started a fight back, Mark Leach, Mark Graham and Tony Martin all won with the latter having a 29.80 average, including missed doubles this meant defeats for Neil Parsonage, Paul Bailey and Terrence Webster. Richard Hosey then took to the oche against Daf Edwards, with the score standing at 3 3 and Daf on a double Rich conjured up something special, tops, tops, tops. 120 out and an impressive 26.42 average, what a lucky man!
Young George Willetts (23.92) continued his streak with a 4 3 win. Clwyd were resilient and Josh Robinson put another point on the home teams tally but Worcestershire were too strong and team Captain Chris Jennings secured a 4 2 win, as did Lee Fernaux (23.55) securing the win for Worcester overall. There were still 3 games left to play and the standard of darts didn't drop. Gareth Killa (27.47) beat Luke Smith (27.91) 4 3 and Andrew Alker (26.37) won 4 nil against Ricky Clarke. The last game of the weekend was between Clwyds Nigel Roberts and Worcestershire's Ian Mackenzie and It was the Scottish Macca who came out victorious 4 – 0. The average? 31.81. .. .81… imagine watching 36 players take to the stage believing you had got the highest average of the weekend and the money for the last player to go and snatch it by a couple of darts. Unlucky James, I'm sure there will be more awards coming your way but it was Ian's this weekend.
The final score was 20 16 to Worcestershire!!
Match awards
Ladies B Korrin Hopkins
Men's B Andy Pullen
Ladies A Zoe Jones
Men's A Ian Mackenzie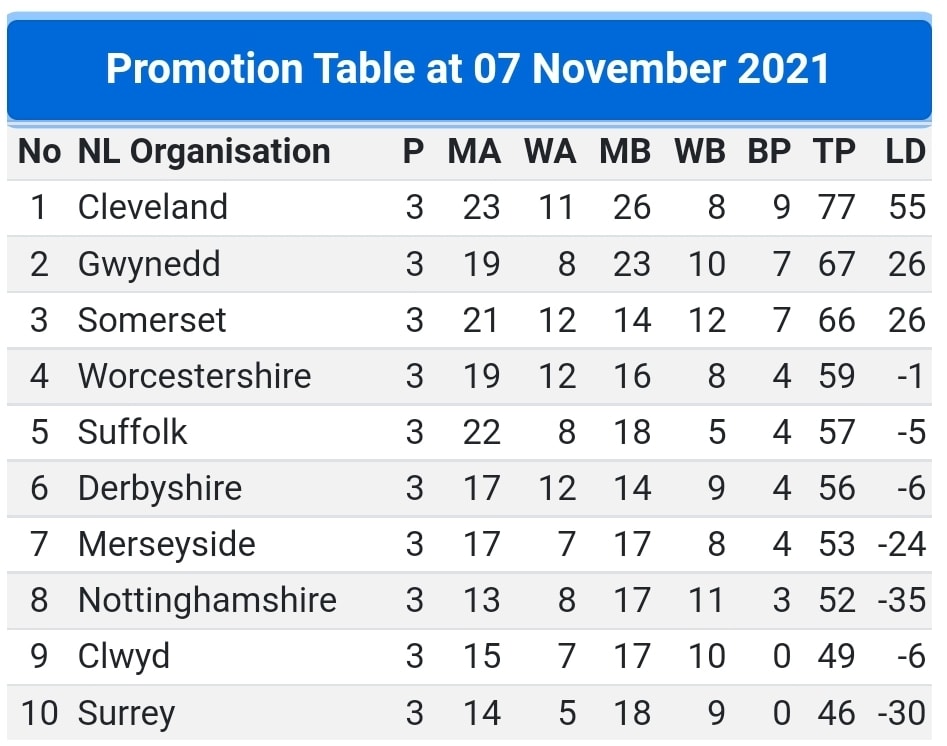 Thank you Clwyd for an excellent weekend, you were gracious hosts and we hope to see you at our venue next season ! As for Worcestershire, Well done all of you!